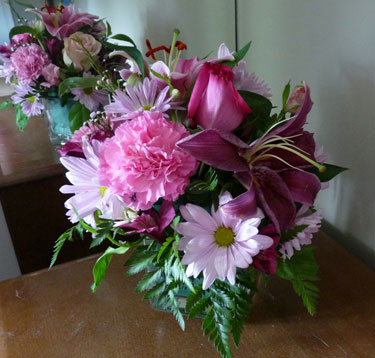 A close friend just had her baby. A loved one was admitted to the hospital for an emergency appendectomy. You look up from your desk and realize that tomorrow is your sister's birthday and you've forgotten to send a card. These are emergency situations that call for rush flower delivery, specifically 24 hour flower delivery!
But when those flowers, plants or gifts absolutely must arrive within 24 hours, how to do you choose the best 24 hour flower delivery service? Use these tips to find the best 24 hour flower delivery service and set your mind at ease that your gifts will arrive on time.
Tips for finding the best 24 hour flower delivery service
Contact local florists close to the delivery location. Many can deliver within the same day, if not within hours of your call.
Although saving money is always wonderful, this isn't the time to comparison shop. If you've got to get your flowers there quickly, look for quality first and delivery time second, coupons and bargains next.
However, you can save money by choosing in-season flowers over exotic flowers. In the summer, daisies are less expensive than mums; in the fall, chrysanthemums are less expensive than roses. Look for seasonal bouquets or even living gift plants as a less-expensive option than greenhouse-grown or imported flowers.
Depending on the florist, you may need to pay a little extra for "rush" shipping, especially during peak holidays such as Valentine's Day or Mother's Day.
Don't forget the card! Have your message prepared before calling florists for delivery. Know what you want to say and the type of card. Have the recipient's address ready when you order, too.
Best online 24 hour flower delivery services
Now that you're ready to order, here's a roundup of the best online 24 hour flower delivery services. These florists delivery beautiful bouquets, plants and gifts within 24 hours of your call upon request. They also have operators standing by 24/7 to help you select a beautiful gift and place your order.
From You Flowers –  This online florist offers 24 hour flower delivery services and an introductory offer coupon if it's your first time ordering from them. The same-day flower delivery starts at $24.95 and four-hour delivery is also available.
1-800 Flowers –  This well-known online and telephone florist uses their network of locally owned and operated florists to ensure prompt, same-day delivery. A chart on their same-day delivery page lists the times by which one must order flowers to ensure same-day delivery. You also need to type in your zip code into the pop-up box to see the types of flowers that can be delivered the same day.
ProFlowers – ProFlowers Florist Express offers six categories of "same day flowers" to choose from. Categories include birthday, get well, luxury, general gifts, funeral and sympathy flowers, so there's plenty of variety among the listed types of arrangements. The luxurious arrangements even come with your choice of gift vase so you can customize the entire arrangement to suit the recipient's tastes. Beautiful flowers, arrangements and living plants are available as gifts as well as baskets of chocolates and other items. There's even a coupon code offered during checkout if it's your first time ordering from them.
Don't panic if you find yourself scrambling for a last-minute gift. With 24 hour flower delivery service, you can easily make your deadline and ensure that your loved ones have a beautiful gift they will cherish.
by Jeanne Grunert