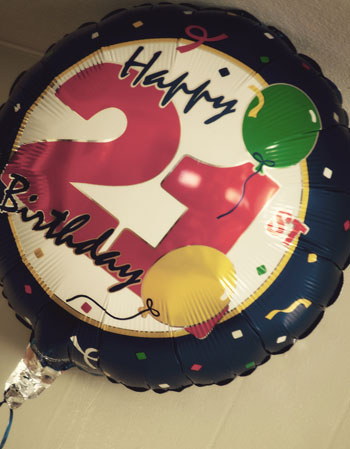 What's more festive than sending birthday flowers to someone you love to wish them a happy birthday? Birthday flowers and gifts offer you a wonderful opportunity to surprise a loved one or friend with a thoughtful, meaningful and cherished gift.
Ideas for birthday flowers
While you may imagine a traditional bouquet or arrangement of flowers to celebrate someone's birthday, think beyond the basics and let your imagination soar to create a memorable birthday gift.
Birthday Bouquets – Traditional birthday bouquets from online or local florists typically include seasonal fresh flowers, mixed greens and an attractive vase. Some may include a festive ribbon around the vase and balloons wishing the recipient a happy birthday.
Bouquets with gifts –  A slightly more expensive option is a birthday flower bouquet with a gift such as a stuffed animal or chocolates. These are great when you want to give something above and beyond flowers.
Birthday flowering plants – A third alternative to traditional birthday flowers is a flowering plant in an attractive container. Plants make wonderful gifts because they live longer than a cut flower bouquet. With proper care, they can thrive in many environments including homes and offices. Most florists ship flowering plants with buds tightly closed so that they are just starting to bloom when they arrive.
Candy baskets or gifts – More and more florists, especially online florists, are offering gift baskets or gifts in addition to birthday bouquets. Gift baskets available from florists include dandies, spa kits, jewelry and more. Pair such a gift with a separate bouquet to really celebrate the occasion!
Meaningful birthday flowers
Did you know that there are flowers assigned to each month of the year, just as they are gems? You can send a special custom floral bouquet consisting of symbolic flowers that correspond to the recipient's birth month. Each flower symbolizes a unique quality associated with people born during that month.
January – Carnation. The carnation symbolizes love and friendship, with pink meaning "affection" and red, "love."
February – Violets. The diminutive purple violet signifies watchfulness and loyalty. Since violets are rarely offered as cut flowers, a container or planter filled with violets would be a better gift if you wish to send flowers by the birth month.
March – Daffodils. People born in March are associated with the daffodil's cheerful yellow color and the quality of optimism.
April:  April has two flowers assigned to it, so choose the one you like best. Daisies are easier to find as cut flowers, and symbolize purity and loyal love. Sweet peas are the second choice and symbolize fun and pleasure.
May – Lily of the valley, which signifies sweetness.
June – Roses, which means love, loyalty and lasting friendship.
July- Larkspur, which symbolizes love.
August – Gladiolus, which signifies calmness and a deep integrity.
September – Asters, a symbol of powerful love.
October – Marigolds, a sign of warm, fierce love and loyalty.
November –Chrysanthemum, with different colors symbolizing love.
December – Narcissus, which symbolizes that someone loves you just the way you are, or holly, which symbolizes domestic comfort and bliss.
Whether you choose a simple bouquet, a symbolic bouquet, a flowering plant or a gift, sending birthday flowers is a great way to celebrate a loved one's birthday.
by Jeanne Grunert