With a passion for flowers that just keeps on growing, Mark Pampling has nurtured a  multi-faceted career in floral design that includes working as co-owner of the New South Wales shop Alstonville Florist,  providing instruction in floral design as a TAFE teacher, judging, demonstrating and consulting. Pampling has been awarded for his accomplishments as a multiple-time winner of the Interflora Australia Cup and has placed highly in a number of international competitions and exhibitions. He answers some questions here about his floristry education, how he balances his multiple roles and offers some tips for florists starting out. 
How did you get your start in floral design?
Initially, when I first caught the flower "bug," I was too old (22!) to get a traineeship or apprenticeship in a florist shop. I fell back on my previous training in hospitality and worked in that industry while I attended floristry classes and floral art lessons, training myself up to be proficient enough to be employable. Eventually, I landed a position in the one shop that I wanted to work in out of the eleven florist shops in my hometown.
Have you taken any floristry courses since then?
The learning never stops. No matter how much you learn, there's always more to know. I'm always on the lookout for workshops and courses to enroll in, especially with designers who I admire, or events and projects to be a part of where I can learn from the design processes as they unfold. Structured or informal learning is a vital part of an ongoing career in floristry or any creative field.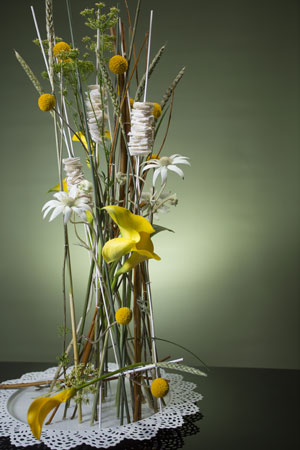 You mentioned both structured and informal learning. Do you feel either one of those is a better approach to learning floristry? If so, why?
Both ways of learning are great for floristry. I encourage people to experience both, especially if they want to develop their design consciousness. You can learn a lot informally on the job and through a hands-on approach. Backing this up with a solid (usually more structured) understanding of why you are doing what you're doing is even better. This latter approach can provide a foundation of design theory which is a great tool for more advanced design exploration.
What do you like most about your job?
The never-ending fascination with the plant materials that we encounter each day and the joy of the moment when the elements and principles of design all come together into an "Ahhhhh" moment, either in my own work or when I see it in another design.
From co-owner of Alstonville Florist to teaching, demonstrating, judging and consulting, you wear a number of different hats. How do you find the variety of jobs helps you?
Each role gives me a different perspective that I can transfer across to the other roles. That opportunity to stand back and look at something from another, wider angle is often very beneficial. This benefit outweighs the challenge of narrowing my focus to just one role at a time when required.
Do you face any challenges from doing so much?
Finding time and space to allow my brain to stop thinking is a frequent challenge. Also, making time and space to be creative for the sake of it, not only for a specific event or project—simply creating and experimenting for the sake of it, and not just with flowers, is so enriching and valuable, and something I don't do enough.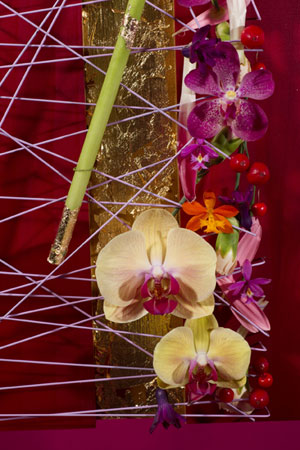 How did you get into teaching?
Teaching found me at first, within the first few years of starting in floristry. I was continually asked to share what I knew, and so I began to teach others through demonstrations and then workshops. Eventually I gained training qualifications and was able to deliver classes for accredited colleges.
What do you like most about teaching?
Teaching forces you to understand what you know and to find ways to share that knowledge so it can be easily absorbed. Teaching also makes you more aware of what you don't know and stimulates curiosity about those unknown areas. I also enjoy the sharing of ideas and techniques with students and the mutual learning that occurs in that space.
What advice can you give to a florist starting out on how to best market themselves?
Make the time and the effort, even though it's usually at the busiest or most inconvenient times, to keep photographic records of your work. You don't need to be the world's best photographer, but it's good to know a little bit about taking photos and lighting (which also better equips you to choose the right professional for special projects).
Floral designs are ephemeral and transient, so keeping a visual record of your work is the best resource for promoting your abilities to potential employers, customers, clients or investors. Organizing, updating and sharing images of your work will reach a much larger audience than the number of people who will actually see your designs for themselves.
Any other general advice you can offer florists?
Always be open to learning more and make some clear decisions about what you want to do with your career.
images: Iain Brockwell