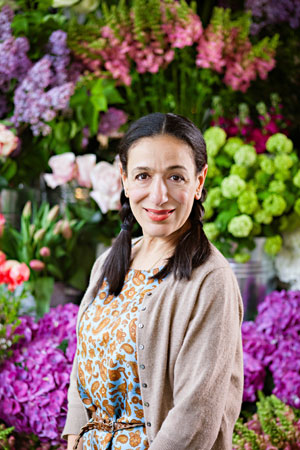 Kally Ellis set up McQueens in 1991 with the aim of selling simple, beautifully presented stylish flowers to the London market. It has since grown into a name recognized beyond London and beyond the UK. Stemming from its success selling flowers, McQueens opened up a school where it teaches students from around the world the McQueens philosophy. In this Q&A Ellis answers questions about working as a florist, drawn from her many years of experience.
What is your favourite aspect of floristry and why?
I can't pick out any one aspect because they all work together—the design, the choosing of the flowers and vessels, the conditioning, the placement—it all works together. It's a creative sequence toward a finale! Of course the reveal at the end is always incredible and gives a tremendous amount of satisfaction—seeing the end result and knowing that the client is happy is always the best feeling.
You once said in an interview, "I always say that you can teach anyone to be a florist, but you can't teach people how to be creative…that comes from the heart." For someone thinking of getting into floristry because they have a true passion for flowers, but don't think of themselves as overly creative, do you think a love of flowers and a strong determination is enough to succeed as a florist?
I think that people often underestimate their own creativity—it's very easy to dismiss—just because you cannot paint, draw or design doesn't necessarily mean anything. Some people have creative vision or creative thinking that they don't even recognize. I say come and do a course or get some work experience to give yourself time to develop.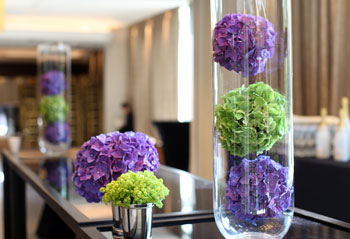 Often, people work in non-creative environments and are not able to release any creative energy, which can be stifling. For me, flowers are an art form and I look for creatives—many of the team have art degrees and training—they come to me free of bad habits. It's important to stress that floristry is not just about being creative—it's hard work, early starts, cold working conditions and it's extremely physical. It's not for the faint-hearted!
What inspired you to start a school in addition to your primary business?
It came about in a very natural and organic way. Our reputation started to spread globally and we received a lot of inquiries from Japanese would-be florists who wanted to understand the McQueens philosophy. We were doing a few private courses and the demand was there, so we opened the McQueens School 15 years ago and we now have students from all over the world. Students can come on four-week vocational courses or one or two courses that focus on specifics such as wedding flowers, focal arrangements, etc.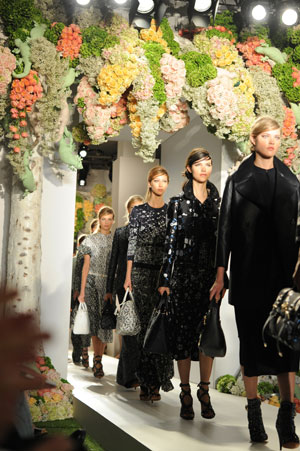 Do you have any favourite events you like working on?
The Vanity Fair post-Oscars party is a truly fabulous event and all of Hollywood A list are there—it's quite surreal. The Mulberry Fashion Shows that are staged at Claridge's Hotel are also wonderful to work on. The client always comes up with a magical brief and myself and the events team always look forward to coming up with a floral interpretation.
Any that you find particularly challenging?
I've been doing this now for 23 years, so I've become a great problem solver and lateral thinker. It's always a challenge in terms of ensuring that the flowers are at their peak—when you're working with a natural product there's only so much control that you have. You have to be prepared for things not going to plan, but a calm head allows for success. Christmas is challenging for us because it's so busy and we're literally working round the clock.
Do you have any favourite designs that you've made?
The Christmas Tree at Claridge's that I designed for them in 2012—it was such an honour to be asked. It got so much positive feedback and it was wonderful to think of my design in one of the world's most iconic hotels.
What inspires your floral design?
Everything and anything. I'm a keen observer of life and art.