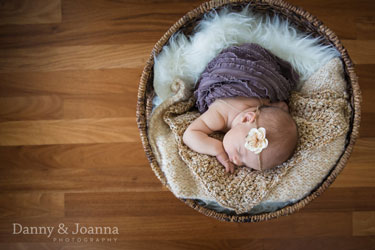 Celebrate the birth of a child with flowers. You can send flowers, gifts or balloons to the happy parents. Some new baby flowers even come with adorable baby-themed vases and containers that can be saved as keepsakes. Whether you're welcoming the birth or adoption of a child, when a new little one joins a family, it's time to celebrate.
Types of new baby flower arrangements
While Valentine's Day seems to automatically conjure images of roses in the minds of people, what kinds of flowers are suitable to send to parents who welcome a new child into the family? There's no one right or wrong answer; there's no traditional flower that symbolizes babies or children. Instead, choose from among the various clever floral arrangements designers have created for the occasion.
Baby's ceramic block – Baby blocks in shades of pink and blue hold an oasis filled with roses, daisies, carnations and greenery. These arrangements look and smell heavenly with long-lasting, colorful blooms.
Baby shoes – Ceramic containers shaped like baby shoes, sometimes decorated with pale pink or blue ribbons or painted ribbons also offer fun ways to welcome a baby. Floral arrangements accompanying baby shoe containers are similar to those offered in ceramic blocks.
Duck and lamb themes:  Both yellow ducks and white lambs are often used to adorn containers for new baby flowers. These arrangements sport white, yellow or off-white shades of flowers, perfect for times when you want to welcome a new baby but aren't sure of the gender of the newborn.
Red wagons and fire engines:  A child's little red wagon or toy fire engine offers a cheery counterpoint to the usual pastel colors associated with newborns. For a mom or dad with a more outgoing personality, choosing a red-themed, bold container such as these filled with bright red roses, carnations, and gerbera daisies infuses personality and style into a new baby flower arrangement.
Gifts for new babies and their parents
What if you want to recognize and celebrate the new baby but you don't want to give a gift of flowers? Florists can also send gift baskets or balloon bouquets with baby themes that are a thoughtful way to honor the parents and welcome the new little one into the family.
Gift baskets for boys or girls – FTD offers adorable gift baskets for either boys or girls. Each basket contains a stuffed animal, a ceramic guardian angel and tasty treats for the parents. Baskets and accessories are offered in both blue for boys and pink for girls.
Chocolate dipped strawberries – Parents will appreciate this delicious themed treat! Pastel shades of blue or pink adorn chocolate-dipped fresh strawberries sent in a beautiful gift box to the happy parents.
Stork-themed gift baskets – The stork may no longer deliver babies, but florists can deliver stork-themed baskets to the parents! These fun gift baskets from FTD include shampoos, baby lotions and other practical gifts in a wicker basket.
Stuffed animals and other gifts – Florists can also custom create gift baskets that combine flowers, stuffed animals and other items available from their suppliers. Speak with your favorite local florists about what you'd like to include in the gift baskets. Most will be happy to accommodate your request if they can.
Welcoming a new child into the family is a cause for celebration. Mark this joyful event with new baby flowers or gifts from your favorite online or local florist.
by Jeanne Grunert