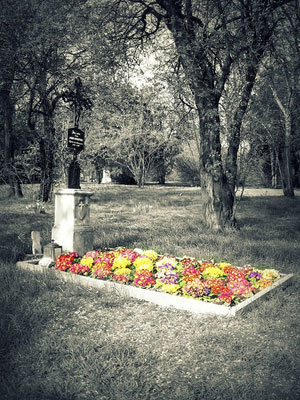 Since ancient times people have been using flowers for funeral ceremonies and burial traditions. Today, it's customary for funeral arrangements to be sent directly to the funeral home handling the arrangements, or for smaller, informal sympathy arrangements to be sent directly to friends or relatives of the deceased. Here's how to select and send flowers for a funeral.
Gather the Necessary Information
Before ordering funeral flowers, you'll need a few pieces of information to share with the florist so he or she can help you choose an appropriate arrangement:
The name of the deceased.
The name, address and telephone number of the funeral home handling the arrangements.
Your approximate budget for funeral flowers.
It's helpful to know the religious or cultural traditions of the deceased before ordering funeral flowers. While flowers are acceptable in most cultures and religions, certain nuances dictate the type of flowers or arrangements used at funerals. For example, members of the Church of Jesus Christ of Latter Day Saints (Mormons) prefer not to receive arrangements in the shape of a cross; many Muslim families do not include flowers in the funeral arrangements. In such cases, your florist can guide you towards an appropriate plant or gift to send to the family.
Types of Funeral Arrangements
There are many types of funeral arrangements. The most common include:
Casket blankets – A casket blanket is an arrangement of flowers that's draped over the casket. Traditionally, the children of the deceased or other immediate family members purchase the casket blanket.
Standing sprays or wreaths – These are large, formal arrangements displayed on stands near the casket.
Floor bouquets or baskets –  Large, formal arrangements placed in vases or baskets and displayed on the floor.
Others – Vase bouquets, tributes that incorporate photographs and tabletop arrangements may also be appropriate.
Sending Flowers
Choosing and sending funeral flowers is similar to choosing and sending flowers for any occasion. Once you have the necessary delivery information, you can visit your local florist or call a floral service provider to order flowers. Most florists have idea books you can flip through to view photos of arrangements; colors and flower types may be changed to reflect the seasons or a special interest of the deceased.
What if the obituary requests charitable donations instead of flowers? By all means, donate to the family's charity of choice as your budget dictates. Consider sending a sympathy bouquet or arrangement as well as making a donation. These smaller arrangements are sent directly to the home of the deceased's family and offer comfort and beauty during a time of mourning.
---
by Jeanne Grunert
image: hyekab25 via Compfight cc