The tulip, known today as a symbol of Holland, actually originated in Turkey. Wild tulips look very different from their hybridized counterparts. During the 16th century, traders brought tulip bulbs back with them from expeditions to the Ottoman Empire. They found a welcoming climate for growing and experimenting with tulips in the fertile, temperate fields of Holland. Over time, the Dutch became the primary breeders of tulip bulbs. By the mid-17th century, Europeans so prized the tulip that they created the first-ever economic bubble. The so-called "tulipomania" period led speculators to artificially inflate the price of tulip bulbs at auction, and great fortunes were won and lost until the market stabilized. Today, tulips are a harbinger of spring, a cottage garden flower that can be mixed into informal floral arrangements or sold in cheerful bouquets for a quick impulse purchase.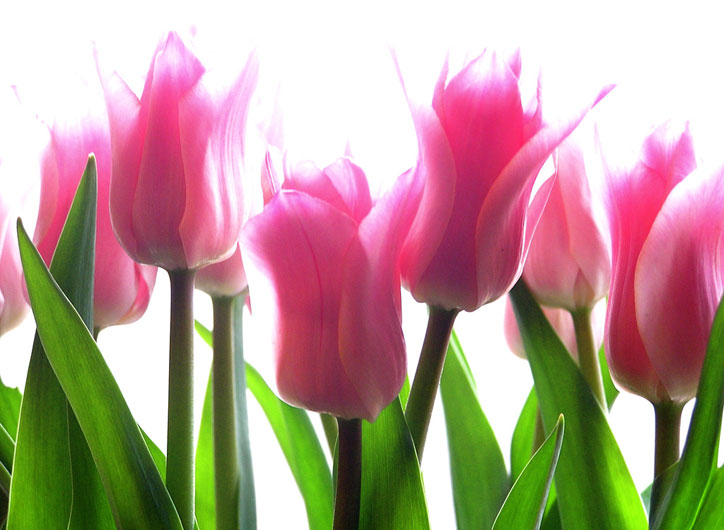 Tulip Types
Florists generally carry tulips November through May. Favorite types for the floral industry include single-rounded, double-rounded, fringed (parrot tulips) and lily-flowered.  Most tulips stocked for the floral trade are long-stemmed, with large flowers.
Colors
Tulips come in all colors of the rainbow from pure white to dark purple, almost black. Bi-colored tulips are available. The striped, streaked tulips known as "Rembrandt" tulips, named after the famous painter who captured their beauty in his master pieces, are also bi-colored.
Uses
Tulips may be sold in bouquets of single or multiple colors. Tied with a band and some raffia, they make a lovely, quick bouquet available for sale. Try placing multiple bouquets of tulips in a large French-style zinc floral tub near the door of your shop at the first sign of spring, when customers crave bright spring colors. They can also be incorporated into informal arrangements.
Combinations
Tulips are most frequently used in monotype bouquets. If used with other flowers, avoid mixing them with daffodils; daffodils exude a sap that shortens the life of tulips. Instead, try mixing tulips with pussy willow branches or other spring flowers, greenery or branches.
Selection, Care and Storage
Choose tulips with tightly closed buds. Cut stems under cool running water and use a typical florist preservative for long-lasting blooms. Tulips should be stored between 36 – 38 F (2 – 3 C). The Typical vase life is between three and seven days.
Purchasing Hints
Novelty tulips, which include the double-rounded and fringed or parrot varieties, cost slightly more than the standard, single-rounded tulips. Prices may fluctuate according to seasonal availability.
by Jeanne Grunert
image: Muffet via Compfight cc